A PROFESSIONAL DEVELOPMENT WORKSHOP FOR TEACHERS!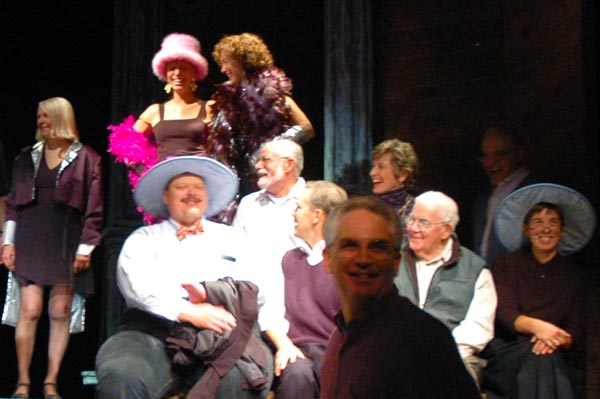 "THE VERBATIM PROJECT" DOING
ORAL HISTORY THROUGH THE ARTS

REGISTER BY SEPTEMBER 23, 2016
An experiential workshop on collecting stories / interviewing, song-writing, and documentary arts for place-based classroom studies

13 Contact Hours (CEUs available)
Option to earn 1 graduate credit

Four sessions:
Saturday October 15th, 1:00-5:00 pm
Tuesday October 18th, 6:30-9:30 pm
Tuesday October 25th, 6:30-9:30 pm
Saturday, October 29th, 1:00-4:00 pm

Location: The Hannah Grimes Center for Entrepreneurship, The Roxbury Room (Upper Level), 25 Roxbury Street, Keene, NH 03431

Workshop Fee: $350 (Option: To earn 1 graduate credit, add $229 Keene State University fee.)

Register by Friday September 23rd: Send $20 non-refundable registration fee with your contact information (name, email, phone number, address) to Tricinium Verbatim Workshop, 25 Roxbury Street, Mailbox #117, Keene, NH, 03431. We will confirm your registration via email. Remaining balance is due at first workshop session (October 15th). Checks payable to: Tricinium Ltd.

For more information: info@tricinium.com

Workshop Description:
In this workshop teachers gain hands-on experience conducting a "Verbatim Project." Participants will learn to do oral history - conducting a group interview with a local elder and transcribing portions of it for subsequent creative work. Participants will use the arts to deeply engage with the interview material - playfully exploring word rhythms, crafting poems and songs about the interviewee using text taken verbatim (word for word) from the interview. Participants will collaborate on a culminating integrated arts performance. This workshop will introduce participants to narrative song (song that tells a story) and to documentary works that variously integrate song, music, and visual arts with the use of people's own words about their lived experience. Teachers will consider the educational application of the Verbatim Project process across all grade levels - with core ideas, resources, and activities for place-based social studies curriculum and arts-integrated learning that builds community and fosters a sense of place, history, culture, and civic engagement. No prior music/arts experience necessary. Contact us for syllabus and to learn additional requirements for earning graduate credit.

About the Instructors:
Dr. Lawrence Siegel is an acclaimed composer, musical theater director, and musician. Dr. Kari Smith is a renown educator, folklorist / historian, and community leader in traditional music and dance. They work together through Tricinium Limited, their non-profit organization whose mission is to harness the power of the arts to nurture civic engagement. Tricinium's signature work, the Verbatim Project, was conceived by Dr. Siegel.
PERCEPTION - A CABARET OPERA
MAY 23, 2015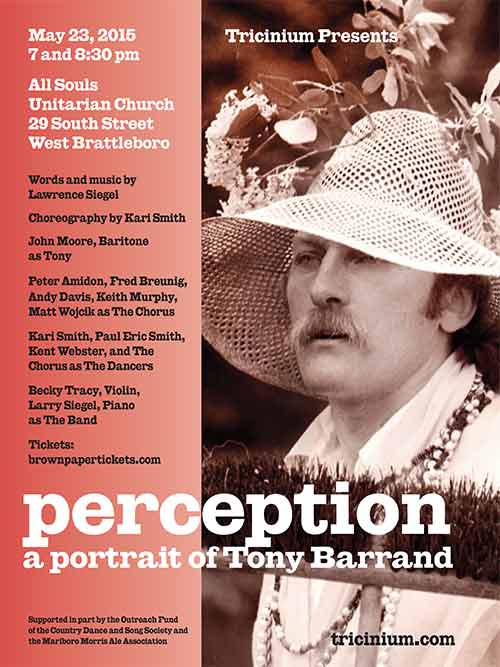 Experience Perception: A cabaret opera, a musical portrait of the great English singer, dancer and scholar of traditional styles, Tony Barrand.

An all-star cast comprised of luminaries from the world of traditional music, including Keith Murphy, Becky Tracy, Peter Amidon, Fred Breunig, Andy Davis, and others, alongside baritone John Moore, a rising star on many of the world?s leading opera stages, tells Tony's story.

We're having a great time with the project, there has been a huge outpouring of interest, it will almost certainly sell out.

Perception will be performed twice, at 7 and 8:30 on the evening of Saturday, May 23rd, 2015, at the All Souls Unitarian Church in Brattleboro, VT.

Tickets are $10 and available online at Brown Paper Tickets.


JANUARY'S KADDISH A COMMUNITY CALL TO ACTION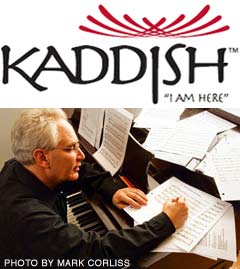 Rochester, NY - The Rochester Philharmonic Orchestra (RPO) kicks off the New Year with a very special concert event, Kaddish - "I am Here," on Thursday, January 15, 2015 at 7:30 p.m. in Kodak Hall at Eastman Theatre. Tickets start at $15/$10 for students.

Kaddish, named for the Jewish prayer for the dead, is a one-hour cycle of 15 original songs for orchestra, chorus and vocal soloists. It was commissioned in 2005 by the Cohen Center for Holocaust and Genocide Studies at Keene State College (NH) to commemorate its 25th anniversary. Dividing the work into three sections - The World Before, The Holocaust, and Tikkun Olam ("Repair the World") - composer Lawrence Siegel also created the libretto, drawn primarily from his first-hand interviews with Holocaust survivors and sung in Hebrew, English and German. The score also incorporates elements of folk songs and Klezmer music (traditional Jewish music, originating in Eastern Europe). This choral masterpiece is intended to raise awareness of genocide as an ongoing global crisis, and was described by the Houston Examiner as "sweet, shocking, melancholy, uplifting, horrific, and finally, powerfully triumphant." Please visit kaddishproject.net for more information.

Led by guest conductor Eugene Tzigane, Kaddish will feature a 165-voice community chorus made up of Rochester Oratorio Society (Eric Townell, director) singers as well as vocalists from area temples. Vocal soloists are Rebecca Shorstein (soprano), Carla Dirlikov (mezzo-soprano), Dominic Armstrong (tenor) and John Moore (baritone).

The concert coincides with the 70th anniversary of the Allied Forces liberation of the World War II Nazi concentration camps, and will open with Mieczyslaw Weinberg's Sinfonietta No. 1, Op. 41. Weinberg, a Polish Jew, lost most of his family in the Trawniki concentration camp. Following the Weinberg piece, award-winning composer Siegel himself will participate in a brief discussion onstage prior to the Rochester debut of his work.

"A window is closing. As the youngest Holocaust survivors now approach their nineties, it is more important than ever to hear their stories," says Siegel. "I hope that Kaddish, by singing the actual words of Holocaust survivors, will provide a living link from those who actually remember this uniquely tragic chapter of human history, to those who will only know of it as history. May the work create empathy, and may that empathy motivate those who hear it to take a stand against genocide."

The approximately 50 local Holocaust survivors will be invited to attend this third of the 2014/15 season's Special Concerts free of charge. Additionally, the RPO recently coordinated a roundtable discussion with leaders in the Jewish community to discuss education and outreach opportunities; dates for these events will be announced soon. Kaddish sponsors are the Max and Marian Farash Charitable Foundation, the William and Sheila Konar Foundation, Elise and Stephen Rosenfeld, Sarah D. Atkinson, M.D. and Steven Hess.

Except where noted, tickets for all of the above concerts start at $23, and may be purchased in person at the Eastman Theatre Box Office (433 East Main Street) and at all Wegmans That's T.H.E. Ticket! locations, by phone at (585) 454-2100, or online at rpo.org. The 2014/15 season is presented by Dawn & Jacques Lipson.
A SPECIAL CONCERT KADDISH PERFORMED BY THE JERUSALEM SYMPHONY ORCHESTRA, AT YAD VASHEM, SEPTEMBER 8, 2011



"Kaddish", music and libretto by Dr. Lawrence Siegel, was performed in the presence of the Speaker of the Knesset, the Honorable Reuvin Riflin. This by invitation concert took place on Thursday, September 8, 2011 at 7:30 pm in Warsaw Ghetto Squre, Yad Vashem Har Hazilkaron, Jerusalem. The concert featured Gil Shohat conducting the Jerusalem Symphony Orchestra with soloists, Maria Jette, soprano, Adriana Zabala, mezzo-soprano, Thomas Cooley, tenor, James Bohn, baritone, and The New Israeli Vocal Ensemble, Chorusmaster Yuval Ben-Ozer.



Kaddish is a unique work consisting of fifteen original songs for chorus, soloists and orchestra. The stirring libretto is fashioned largely from testimonies of Holocaust survivors. Kaddish opens a window onto the lives of survivors of the Shoah, and commemorates the six million Jews murdered.

Watch Kaddish Performed at Yad Vashem

Kaddish at Yad Vashem Photo Gallery

More information on Kaddish at Yad Vashem is available on the Yad Vashem webiste.
KADDISH WORLD PREMIERE LARGE ORCHESTRA VERSION - HOUSTON SYMPHONY, NOVEMBER, 2010
'Houston Symphony: Kaddish - 'I Am Here' —Sat., November 27, Houston, Examiner.com
Complete article in PDF format [2.2 MB]
By GARY LINDSAY, Examiner.com Houston

...After the intermission came Kaddish, which enough cannot be said about. It was sweet, shocking, melancholy, uplifting, horrific, and finally, powerfully triumpant. With several Holocaust survivors present being introduced from the audience, then the grand and dramatic production with the full Houston Symphony, the full Houston Symphony Chorus, plus the four singing narrative soloists, all under the steady hand of Maestro Hans Graf, it was a large, moving, stupendous production.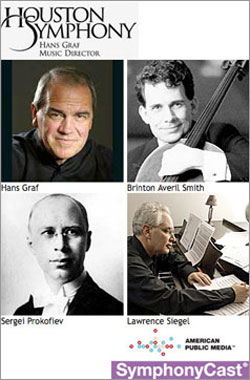 It had the dramatic intensity and weight of the largest and most dramatic grand operas. But unlike opera, which is usually based on legend or mythology, this is "real." It is the "truth." It is history. And we know this because it is a first person testimonial by people still living, several of whom were present in the room that night. The first person testimonials being sung powerfully by the vocal soloists, echoed by the expansive and soaring Houston Symphony Chorus behind them.

Most of us only know the Holocaust from documentary footage, or from narrative motion pictures. But Kaddish is not a documentary. Not a fiction. It is a very personal testimony from several people who lived through it, and it is alternately poetic, angry, wistful, horrific, melancholic, and humanly philosophical. It is a story that questions faith and destiny, while recounting memories of events that were haunting, disturbing, horrible, disgusting, and shameful.

It is an unforgivable story. It is a practically unbelievable story, that human beings could ever act so cruelly...and yet it is still told in an overwhelmingly human, real, and heartfelt way.

A very powerful moment toward the end was when a littany of real non-survivor names was read en masse in overlapping fashion by the Houston Symphony Chorus. Starting with everyone, then just the women, then everyone again, then just the women again. Then fewer and fewer women's voices, until finally there was just one...and then it too, was silent.

Haunting.

This is also a bigger story than we usually see. It covers the saga from before WWII, and during WWII, and after WWII, and until today. We get the feeling of experiencing the entire story cycle, from before...to now. It is a huge story.

Yes, the chorus sounded beautiful. And yes, the symphony sounded wonderful. And yes, the soloists sang powerfully and movingly. But it is all in the service of telling this horrific, and yet ultimately courageous and heroic story. In this respect the star of the show must be Lawrence Siegel and his amazing, classically oratorial, symphonic, compositional achievement. And yet even Mr. Siegel does not do this for himself. He does it for the Holocaust survivors, and for all the people who did not survive the Holocaust. And to tell this horrible story, in the most artistically beautiful way possible, so that people can understand what happened. He succeeded admirably. Plus he had a lot of very talented help along the way, and in this amazing performance. It is an unquestioned triumph. And extremely emotional to sit through.

How does one feel good after seeing and hearing a performance like this? Because ultimately it is a story of triumph.

The best feeling that can be taken away from this story, and this extraordinary historical musical event, is that:

...the evil criminals, did...not...win.

The Survivors Won.

And Bravo! to them...


NOVEMBER, 2010 - LISTEN TO KADDISH!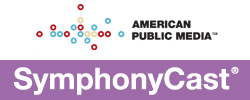 Last week's World Premiere of the large orchestra version of Kaddish is featured this week on SymphonyCast, a two-hour weekly radio program broadcast on many public radio stations. The concert features Hans Graf conducting the Houston Symphony and Houston Symphony Chorus, with soloists Jessica Rivera, soprano, Margaret Lattimore, mezzo-soprano, Chad Shelton, tenor, and James Maddalena, baritone. It will be broadcast Monday, November 29 through Sunday, December 5. See the list of stations for show times in your area, or listen online anytime.